A often over looked food source that hasn't gotten much media attention. Seeds, they aren't just for "Birds".


Original published October 20, 2016, at 10:37a.m.




U.S. News & World Report



They're also tiny, nutrient-packed, filling choices for meals and snacks. From Sesame seeds to hemp seeds, U.S. News Health & Wellness turned to experts who explained health benefits and culinary tricks for preparing an array of seeds.

What are seeds?


Seeds are the embryo of a plant, says Sharon Palmer, a registered dietitian and author of "The Plant-Powered Diet." They're typically full of protein (4 to 9 grams per ounce), low-glycemic carbohydrates, fats, fiber, vitamins and minerals. Research has linked certain seeds to health benefits like lower blood pressure and cholesterol, as well as protection against cancer and increased bone health.

Hemp seeds

They're cultivated from plants of the Cannabis genus, but hemp seeds are legal and do not contain THC, the primary ingredient in marijuana. Try eating them raw, ground into a meal, made into hemp milk or tea, sprouted or as a baking ingredient. One ounce contains 157 calories and 9 grams of protein, and provides good doses of iron, magnesium and zinc, Palmer says. The soft, light-colored seeds are often used in cereals.

Chia seeds


These tiny, dark seeds offer a "mild, nutty flavor," Palmer says, along with about 137 calories and 4 grams of protein per ounce. You'll also get a good fix of fiber, calcium, phosphorus and manganese, which promotes bone health. Sprinkle chia seeds into cereals, baked goods, salads or smoothies. You can also add them to apple juice or warm milk, mix them into yogurt, add them to soup to thicken it or add ground chia seeds to flour when you're making bread.

Pumpkin seeds


They're large, chewy and packed with lots of vitamin K, iron, magnesium, phosphorus , zinc and copper. One ounce contains around 153 calories and 7 grams of protein, Palmer says. She suggest tossing them into granola, cookies and muffins, or using them to top roasted veggies or casseroles. "They're great toasted," says nutritionist Lisa Goldberg, who's based in New York City. "Use them in salads or to add some pizazz to brown rice and quinoa dishes.

Flax seeds


Chow down on one ounce, and you'll get 150 calories and 5 grams of protein, along with lots of fiber, thiamin and magnesium, in addition to other important nutrients. Research suggest they help protect against heart disease and diabetes. palmer suggests grinding and sprinkling them into cereals, baked goods, smoothies and veggie burgers. You can also mix flax seeds into a glass of water or juice, or combine them with mustard or mayo and slather it onto your sandwich.

Sunflower seeds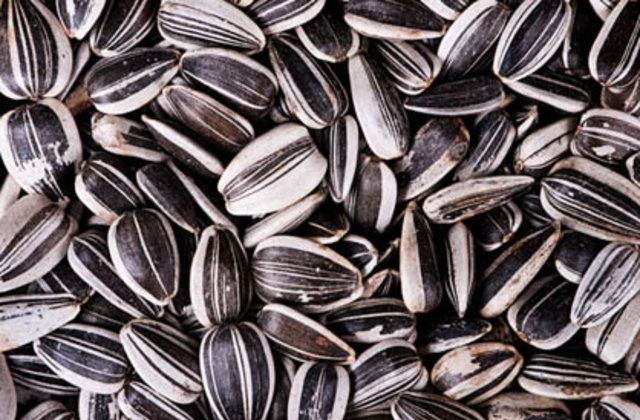 These crunchy seeds, which boost a nutty flavor, are among the most well-known options. One ounce packs 163 calories and 5 grams of protein, along with fiber, vitamins Eand B6, niacin, zinc and other important minerals. Toss a handful into granola, cereals or baked goods, or grind into butter for spreads, Palmer says. And there's never anything wrong with eating them directly out of your hand.

Pomegranate seeds


These red seeds are thought to help lower cholesterol and prevent muscle cramps. One ounce contains 23 calories and 1 gram of protein, and they're high in antioxidants; vitamins A, B and C; folic acid; and fiber, Goldberg says. Pomegranate seeds are typically eaten raw: you can sprinkle them over salads, blend them into smoothies or stir them into yogurt. Recipes like"Pomegranate Guacamole" also call for a handful or two of the seeds.

Cumin seeds


You've likely tasted cumin seeds in your favorite Mexican and Indian recipes. They have a slightly hot, peppery flavor and are a key ingredient curry powder. One ounce provides just under 50 calories and about 2 grams of protein, and they're full of iron, copper, calcium, fiber, magnesium and zinc. Plus, research suggests they reduce inflammation, aid in digestion and suppress muscle spasms, Goldberg says. She suggest adding cumin seeds to your favorite taco or chili recipes.

Sesame seeds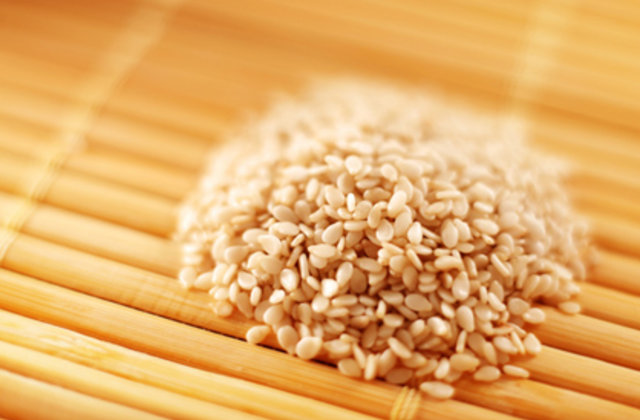 You've probably spotted these tiny, soft seeds lining your bagel or sprinkled into a salad. One ounce is worth about 160 calories and 5 grams of protein, Palmer says, and provides a strong dose of fiber, thiamin, vitamin B6, calcium and iron. Use them as a seasoning in stir-fries, salads and slaws, or grind them into Tahini for Mediterranean dishes. You can also stir them into a batter for homemade bread, muffins and cookies.

Well this was a brief intro into seeds and the many benefits they can provide.

"As Always, From Me to You in Health & Happiness"