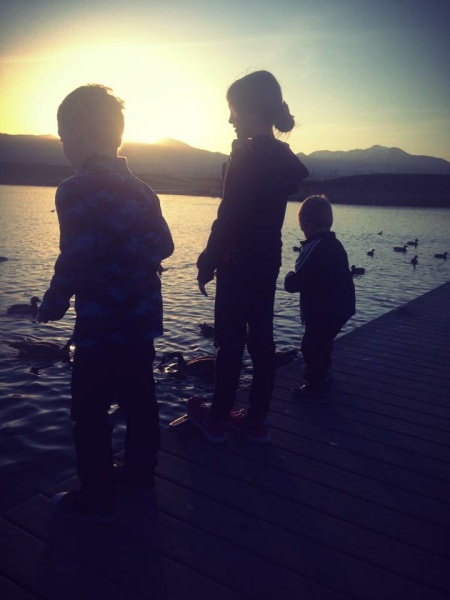 Written by Lori Truman


As a mother, I absolutely enjoy the simple lessons I learn from my children every day.

I have learned patience, unconditional love, forgiveness, loyalty, no limitations, eagerness to learn, commitment, etc.

They are simple life lessons that I am reminded of daily as I enjoy the precious time of watching my three adorable children grow.

These life lessons are everyday events that I take in and apply to my life. I am so grateful that I get to learn from these beautiful blessings.

Take a Moment to be Silly
I have a shadow every morning as I get ready. It is the silliest, smiley, giggliest shadow in the whole world. He's 2 and I couldn't be more in love with how precious he is.

Into everything, makes a mess, spills everywhere and all I see is a big smile and a sweet 2-year-old that melts my heart when he says, "I love you so much mommy."

We dance to "Happy" and sing "Let it Go" from Frozen all while mommy does her hair and gets ready for the day. I think it adds an extra 20 minutes to my morning but I don't mind. He reminds me how simple life is and to be silly and enjoy the moment.

Dream Big, Seize Every Opportunity
At 6:45 in the morning, before the kids' alarm goes off, you can find one happy 5-year-old that is busy in his room playing with Teenage Mutant Ninja Turtles. He has been considerate of his little brother and older sister and has closed his door as to not wake them.

When I walk in I can always count on a smile and a "good morning mom." He is independent and seizes the moment. Whether it is playing pirates with his siblings, building huts, or riding bikes, he is always thinking and using his imagination.

He doesn't have a care in the world except what his next adventure will be with his siblings. He reminds me to always dream big, seize every opportunity and enjoy each adventure through this journey.

Align Your Priorities
Wednesday evenings are always a bit hectic at our home. Homework, dinner, conference calls, dance and tumbling.

As we head out the door to make it on time to a 6:30 dance class, my 7-year-old is always asking me how many weeks she has left.

"Mom, I love dance but I would rather stay home and play with my little brothers."

It always puts a smile on my face as to her commitment level to see something through and also the priority of being with her family. She has a sweet personality and cares so much for others (animals too!!)

She always reminds me to align my priorities and and stay committed and work hard.

As mothers we feel the weight of the world and responsibility to teach our children, when in reality life's greatest lessons are learned from them. Take time to enjoy each precious moment.

When I was a firefighter the biggest joy for me was raising my kids. As a Dad I lived to share every moment with them. Often finding myself passed out on the couch with 3 little ones by my side. Where ever I went they were always there with me. Neighbors thought I was crazy riding my bike with 1 child on a bike seat and the other 2 sitting in a bike stroller.
Playing tag with them on the playground, letting my daughter tag me because she couldn't keep up with her brothers. Spending hours at the beach running in and out of the water. Watching them eat ice-cream as half of it melts away. All 3 of them sitting at the kitchen counter goofing around waiting for smiley face pancakes. Having a huge bowl of popcorn in my lap sharing with the kids and of course cleaning up popcorn left everywhere.
The Fall season was especially special for us. There excitement when getting home from school to see I had chopped wood for the fire place. Eat dinner, go play hard, have a shower and relax with little feet facing the fireplace having a cup of tea. Saturdays and Sundays were the best, all out play day with my kids.